In the first weeks of the war commentators begged the Government to make their war aims clear to the public – what was the country fighting for? Surely this was a vital step if the Government was to succeed in getting men to volunteer. When the war was over, headstone inscriptions revealed the myriad causes for which the men and their families believed they had been fighting. Some of which were the same as the Government's.
On 11 November 1920, the body of an unidentified British soldier was buried in Westminster Abbey. 'Unknown by name or rank' he could have been anyone's son, husband, brother or father who was still missing presumed killed in action. He was an 'Everyman', the Unknown Warrior. Initially his temporary headstone read, 'A British Warrior who fell in the Great War 1914-1918 for King and Country'. A year later a black slab of Belgian marble was placed over his grave with the following all-inclusive, elaborate inscription:
BENEATH THIS STONE RESTS THE BODY
OF A BRITISH WARRIOR UNKNOWN BY NAME OR RANK
BROUGHT FROM FRANCE TO LIE AMONG
THE MOST ILLUSTRIOUS OF THE LAND
AND BURIED HERE ON ARMISTICE DAY
11 NOV: 1920, IN THE PRESENCE OF
HIS MAJESTY KING GEORGE V
HIS MINISTERS OF STATE
THE CHIEFS OF HIS FORCES
AND A VAST CONCOURSE OF THE NATION
THUS ARE COMMEMORATED THE MANY
MULTITUDES WHO DURING THE GREAT
WAR OF 1914-1918 GAVE THE MOST THAT
MAN CAN GIVE LIFE ITSELF
FOR GOD FOR KING AND COUNTRY
FOR LOVED ONES HOME AND EMPIRE
FOR THE SACRED CAUSE OF JUSTICE AND
THE FREEDOM OF THE WORLD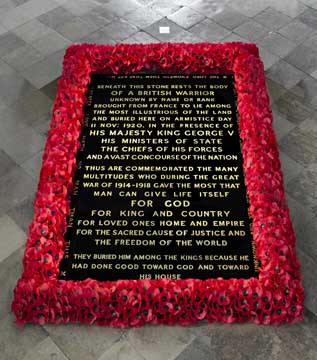 The Unknown Warrior's headstone was in place before many of the war cemeteries were constructed so it is very likely that the words influenced the public when the time came for them to make their own choices. And the Warrior's headstone gave a fair number of causes to choose from: God, King, country, loved ones, home, Empire, justice and the 'freedom of the world'.
Nevertheless relatives could still find more: from the abstract concepts of world peace, honour, democracy and civilization to the very specific, 'for his wife and little son'. You will find some of the many different reasons in the associated posts.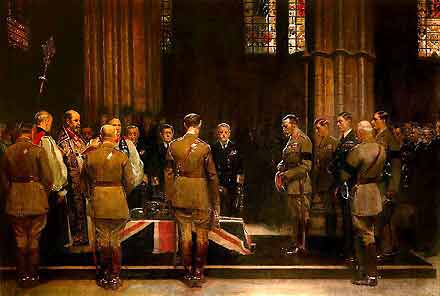 The Burial of the Unknown Warrior in Westminster Abbey
Frank O. Salisbury 1920
King George V with the 'Chiefs of his forces'.